Saint George Academy News
SGA Students Get Zombified
November 11, 2015
Under the direction of Principal Andrij Stasiw, SGA students embarked on an ambitious project in October to win a contest that would potentially bring the Academy a cash award of $100,000! The contest was created by State Farm Insurance which challenged high schools around the country to create a video about safe driving. In addition to the substantial cash prize, the winners of first prize would have their video aired by State Farm. SGA students were challenged to submit ideas for the video and within a week a winning scenario, written by SGA Senior Edan Lavie, was selected. The scenario involved a storyline where SGA Senior Isli Hoxha is texting while driving and is suddenly swarmed by a herd of zombies, who are not after him, but rather, his cellphone. The message of the video – even zombies know better than to text and drive!
Almost all of the students volunteered to be zombies, while others offered their talents to help direct, film and do make-up and costumes.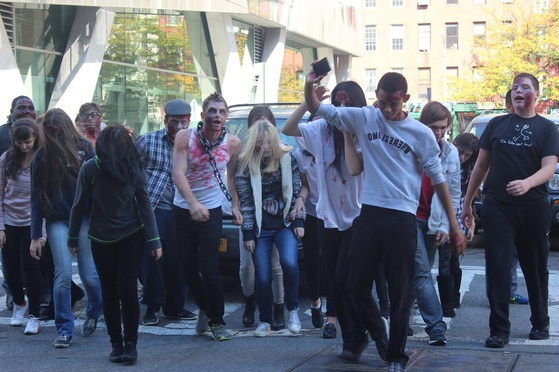 SGA students during the filming of their video for the State Farm competition. Photo: courtesy of SGA News Association
On October 20, SGA senior Gaby Genic, along with assistants Tiffany Maldonado and Hailey Sanchez worked throughout the morning to create dozens of drooling, bleeding and growling zombies out of SGA's enthusiastic students. Once outside, supervised, by members of the SGA faculty, the zombies followed the instructions the of Director, Edan Lavie and SGA Senior Ferdinand Essizewa, who was filming the video. All who participated had a wonderful time playing their parts. The video was then edited by Isli Hohxa and submitted to State Farm on October 25. In November, Mr. Stasiw received word that of the thousands of schools that submitted videos, SGA was selected as one of the top 100 finalists! Stay tuned for the final results in our next bulletin!
---
St. George Students Attend the Unveiling of the Holodomor Memorial in Washington, D.C.
November 9, 2015
Saint George Academy Students participated in the unveiling ceremony of the Ukrainian Famine-Genocide Holodmor Memorial in DC. The students have learned from their Social Studies Teacher Liza Szonyi Donovan about this artificial famine during 1932-33 that killed millions of Ukrainians at the hand of Stalin through starvation. After learning through lecture and history books they are now witnesses in this next chapter in Ukraine's history where the truth about this heinous act of genocide against the Ukrainian people will become known to all.
---
November 4, 2015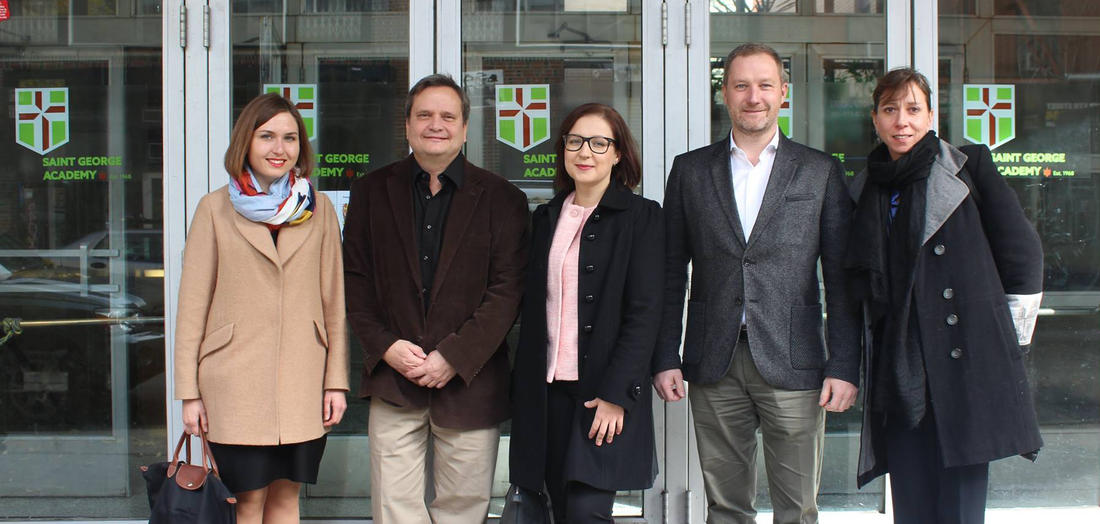 Inna Sovsun, First Deputy Minister of Education and Science of Ukraine, Oleh Derevianko, Deputy Minister, and Anna Novosad, Head of International Relations Committee, visit Saint George Academy. The delegation learned that some very important alumni come from Saint George Academy. Ukrainians have much to be proud of!
A huge THANK YOU to the diverse students who sang Aleluya in Ukrainian for our esteemed guests.
---
October 25, 2015
Saint George Academy current Principal Andrij Stasiw, students, faculty and church parishioners along with Bishop Basil Losten, Fr. Bernard Panchuk and Fr. Phillip Sandrick honored Sr. Theodosia Lukiw and Fr. Peter Shyshka with a banquet. During which each was thanked for their years of dedication to St. George School and Academy.
---
St. George Students Welcome the Pope to NYC
September 24, 2015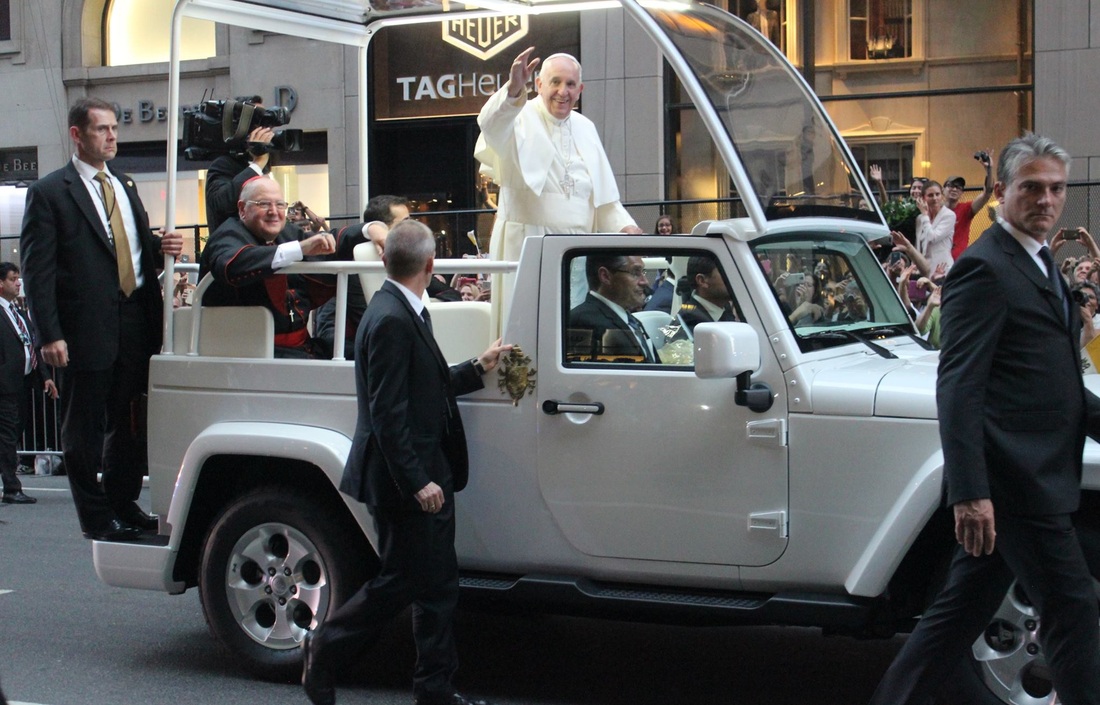 Pope Francis waves to Saint George Academy students. Photo: courtesy of Saint George Academy News Association
Saint George Academy students, together with their new principal, Andrij Stasiw, and Saint George Academy Office Manager Irene Saviano, joined thousands of New Yorkers on the streets of 5th Avenue on September 24 to catch a glimpse of one of history's most beloved pontiffs, Pope Francis, during his historic visit to the U.S. in September. Principal Stasiw afforded the students this golden opportunity when he was able to procure 40 exclusive tickets from the Archdiocese of NY.
The Saint George Academy students had front row seats as they watched the Pope travel down 5th Avenue in his famous "Popemobile". Saint George Academy Junior Ashely Pietrucha, and Saint George Academy Senior Artem Duda were able to catch the Pontiff's attention when they enthusiastically waved the national flag of the Pope's homeland, Argentina. Mrs. Saviano then snapped the amazing picture of the Pontiff waving to the Saint George Academy students.
Both students and faculty members found the experience to be very moving and energizing. Students called it a once in a lifetime opportunity that they will never forget.